Webkit: The Dominant
Smartphone Platform
Based on Q2 sales of smartphones, Webkit-based browsers may soon ship on 85% of all smartphones sold.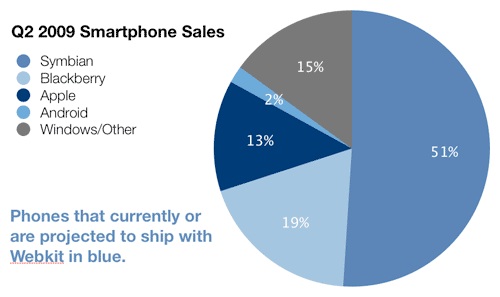 Please keep in mind, this is not the reality right now. This number assumes RIM's purchase of Torch Mobile really means that future Blackberry Browsers will based on Webkit.
There are some other caveats as well:
This understates Opera's mobile market position. Opera has a large installed base of users.
It assumes market percentages will stay the same. We know this won't be true.
It assumes that all of the "other" smartphone OS browsers are not using Webkit currently.
Mobile Firefox is just getting started. It is unclear how that will change the landscape.
Just because it is Webkit, doesn't mean that it is the latest version of Webkit.
Caveats aside, you would be hard pressed to find another smartphone development platform with any where close to Webkit's market share.
More importantly, this means that HTML5 for mobile is looking great. If Blackberry joins the ranks of Webkit-based browsers, that will means Symbian, iPhone, Android, Palm and Blackberry will all be on the path to HTML5 support.
The only laggard will be Mobile Internet Explorer, and even for Windows Mobile there are options like Google Gears which adds some HTML5 support to IE or installing other browsers like Opera or Firefox.